The partnership has developed a range of Continuous Post Qualifying Professional Development courses to support and develop our Social Workers which are delivered by Leeds Beckett University, or in partnership with Leeds Beckett University and University of Leeds.  These courses are in addition to the local offer of Leeds and Wakefield Council.
Courses in specialist areas have been developed in consultation with practitioners and enable busy professionals to take time out of the workplace in order to reflect upon, and develop their professional confidence and capability.
Our courses have been mapped against the relevant Knowledge and Skills Statements to enable participants to demonstrate their professional development against these standards.
Our CPD courses include the following: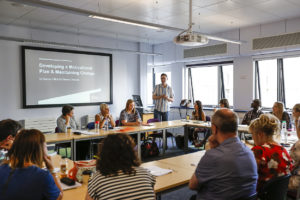 Interpersonal and Therapeutic Skills: A two-day experiential workshop to engage practitioners in a process of review and evaluation of their engagement with service users, carers and professionals in order to enhance their skills and promote effective practice.  The course includes analysis of theory relating to interpersonal and therapeutic skills.  There are opportunities to practice advanced communication skills through work with service users and simulated patients across a range of complex case scenarios.
Motivational Interviewing: Offered over two days, this includes experiential learning opportunities to develop specialist skills in this evidence-based approach to practice.  Participants are able to develop a theoretical and conceptual understanding of motivational interviewing and the change process. Through focused simulated casework and interaction with actors, participants are able to explore and resolve ambivalence in relation to problematic behaviours in order to promote positive outcomes for service users.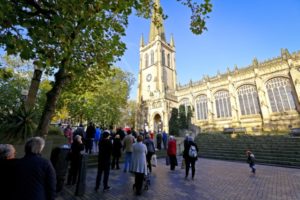 The Practice of Best Interests Assessor: This is a 20-credit module at Master's Level taught through a series of lectures, seminars and workshops. The module equips students with the knowledge and skills to demonstrate the key competencies required by the legislation. The course explores the role of the Best Interests Assessor, analysing their legal and ethical responsibilities.  Successful completion enables participants to be approved in this professional role.
The Post-Graduate Certificate in Mental Health Practice: This is a 60 credit programme taught at Master's Level that enables students to gain the skills to become an Approved Mental Health Professional (AMHP). Teaching and academic support is provided by a team with extensive experience in mental health services.  Accredited by the Health & Care Professions Council, the course provides students with intensive training to develop knowledge and capability as an effective practitioner with a comprehensive understanding of current legislation.
Training for Practice Educators: This training equips qualified and appropriately experienced social workers with the necessary knowledge and skills to supervise and assess social work students up to and including their final qualifying placement.  It focuses on models of adult learning, reflective supervision and holistic assessment against the standards of the Professional Capabilities Framework.  The course includes approval to function at Practice Educator level 1 and, with additional training and assessment, PE level 2. Beyond this programme the Teaching Partnership provides ongoing support for PEs and has appointed Practice Champions to promote best practice across all our student placements.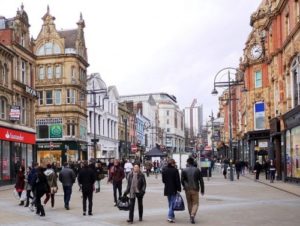 Training for Assessors of ASYE: This training is designed to support the development of ASYE supervisors, assessors and mentors.  The one-day course includes the application of best practice in relation to reflective supervision and opportunities to develop skills in direct observation and constructive feedback.  The training is designed to enable effective support to be offered to all NQSWs and equitable assessment in line with the standards of the PCF and the relevant Knowledge and Skills Statements.
Leadership and Resilience: This is a new one-day training course for Social Work team managers and supervisors developed by Leeds Beckett University in collaboration with local practitioners. The course will enable participants to gain an understanding of resilience and the importance of effective supervision and team support to enable professional development and the enhancement of staff wellbeing. The training day will provide participants with opportunities to evaluate their own and others' current wellbeing and develop effective strategies for stress management and self-care.  The training will include analysis of research related to resilience and healthy teams and exploration of theory related to emotional intelligence and emotional labour.
Enhancing Social Work Education: Teaching and Presentation Skills: This is a half-day training session developed by Leeds Beckett University and the University of Leeds.  It is designed to build the confidence and skills of local social work practitioners who have a keen interest in social work education and are involved in teaching students as part of their University studies.  The training aims to enable participants to understand the key standards underpinning social work Higher Education programmes and provide enhanced learning opportunities for social work students. In addition students will learn to apply adult learning theories and teaching skills to a learning session, and work jointly with university colleagues to deliver high quality teaching events.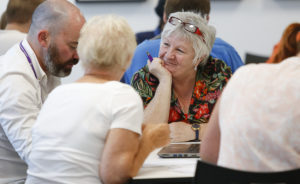 Emotional Resilience: This is a one day programme for up to 50 participants. In the morning the programme focuses on our individual understanding of resilience, understanding different states of resilience and how we move between them and current research messages about resilience.  In the second session we explore practical approaches to enhancing resilience in relation to using time and energy well at work and challenging habits, loyalties and beliefs about work life balance.  The afternoon focuses on emotional resilience by exploring a model for understanding the impact of trauma and then using our direct experience to explore interventions which help us with resilience to trauma in social work practice. We explore how to build collective emotional resilience and then finish with an exploration of individual approaches including mindfulness and the window of tolerance which can also be used with the people we work with.