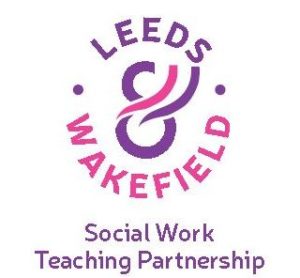 The Leeds and Wakefield Social Work Teaching Partnership fully condemns the killing of George Floyd and racism in all of its forms.
The events seen in the USA and across the globe have brought the racial disparity and injustice faced by black and minority ethnic groups everywhere to the forefront.  We understand racism, both direct and indirect, is felt across the globe and here in the United Kingdom.  We stand together as staff, students, partners, service users and carers to bring about change by tackling inequalities and racism.
As a Partnership we understand that addressing discrimination, inequality and oppression is a fundamental task of social work practice.  This is particularly pertinent at a time when Covid-19 has shone a light on the inequalities experienced by people from BAME groups and the impact it has had across social care.  In order to be part of the solution we are committed to reviewing all areas within our partnership and create an action plan to tackle inequality.
It is important to us that our response promotes social justice and fairness and brings about positive and lasting change.  In order to be part of the solution we are committed to reviewing our partnership where inequality may be prevalent and create real action to tackle this. We have and will continue to actively review equality, diversity, and inclusion issues within our approach as a Partnership, which affect BAME students, people who use services and staff as well as the social work curriculum content.
It is important that our approach amplifies the voices of people who are affected by racial injustices and want suggestions from you on how we can encourage and support others to help hold us accountable as we grow.
We stand together in solidarity with our BAME staff, students, service users, carers and partners in this fight against racism and social inequality.
Leeds and Wakefield Social Work Teaching Partnership